1 February, 2018
Protecting access to energy for all in electricity markets
Ahead of the European Parliament's vote on the electricity market laws, the Right to Energy coalition sent its recommendations to MEPs.
Energy poverty and the climate crisis are both urgent issues, where inaction costs lives. If the 2030 Energy package does not include a social justice perspective, it is bound to fail. Addressing energy savings and energy poverty holistically can boost Europe's climate action. We urged MEPs to rise to the challenge and put Europeans at the heart of the energy transition.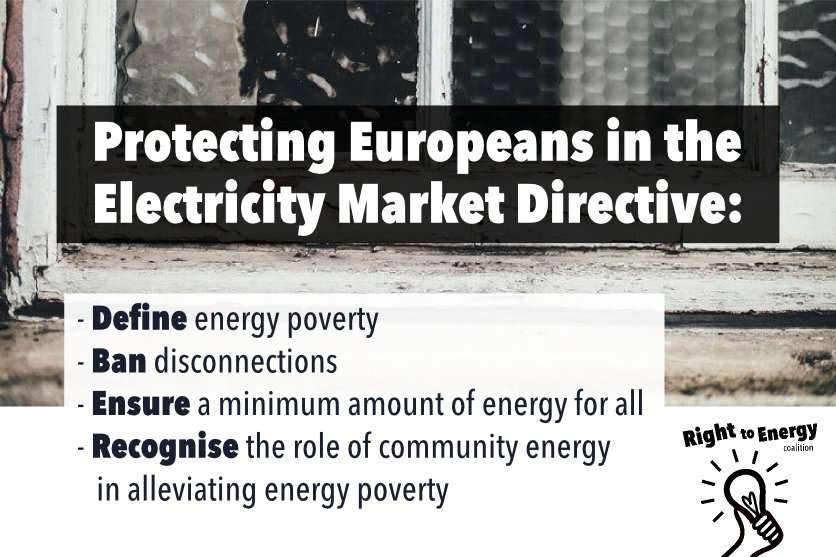 Agreeing on a definition of energy poverty is crucial to identify the issue and its causes, and consistently measure the problem. Although contexts differ in the EU, the well-known causes of energy poverty should be acknowledged: stagnating or decreasing incomes, rising energy prices, and inefficient homes. 
Requiring the definition of criteria to measure energy poverty is also crucial to ensure dataset comparability across the EU.
Access to energy remains an issue in Europe. Between 2004 and 2015, the EU population in arrears in utility bills rose by more than a third (Eurostat), with a clear increase after the 2008 financial crisis. More and more people are at risk of disconnections — a harsh, extreme procedure. Policy-makers often recognise that energy is a human right. The Parliament n

ow has the opportunity to guarantee that right, by banning disconnections to effectively protect Europeans.

Supplying a minimum amount of energy for all would also protect the most vulnerable and send a powerful message on the right to energy.
Supporting local energy communities has been shown to alleviate energy poverty by empowering citizens to save energy, and through solidarity initiatives that use revenue generated from renewable energy to support vulnerable and low-income households.