14 January, 2020
European Green Deal: which groups are calling for action?
On Wednesday 15 January 2020, the European Parliament will vote on its position on the European Green Deal.
All political groups have prepared position documents outlining their vision for an energy transition. But how do they measure up on ambition to address energy poverty? Here's our analysis.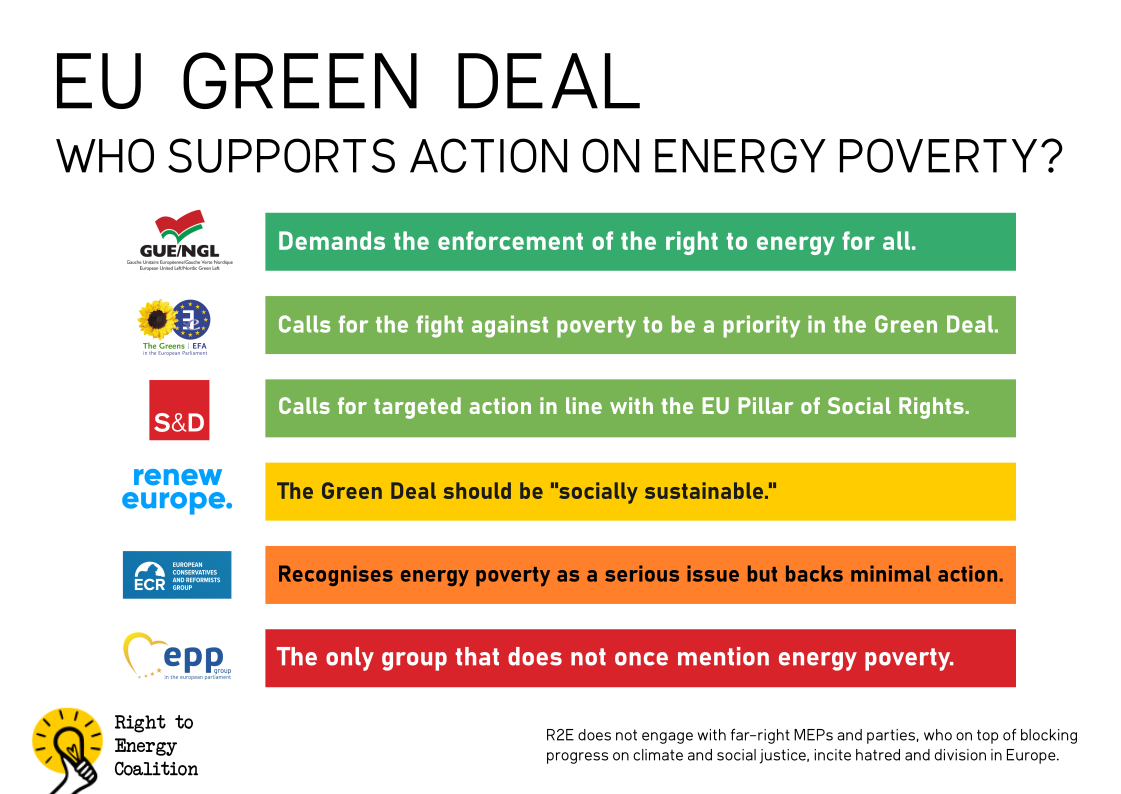 European Left Group (GUE/NGL)
The European Left Group adopts a clear rights-based approach, recognises the links between climate change and social inequality, and pushes for the adoption of bold policies to ensure all EU citizens be provided with energy and decent housing.
« Reiterates that energy policy is about people and must first and foremost aim for equitable access to energy by guaranteeing the right to energy; considers energy poverty to be deeply entwined with the climate crisis and underlines the potential of the European Green Deal to tackle inequality and the climate crisis in terms of social policy that leads the ecological transition; recalls the right to a home and stresses how the European Green Deal can guarantee this right, eliminate energy poverty and achieve decarbonisation at the same time with adequate ambitions and well-funded policies;
Denounces the privatisation of energy sectors, which leads to higher prices and increases energy poverty; underlines that energy is a public good and that access to renewable and affordable energy is a basic right; insists that the energy systems brought into public ownership and management be democratised and decentralised and that community-level energy projects be expanded in order to better direct them towards environmental and social objectives; is deeply concerned about the alarming number of households in or affected by energy poverty in the EU, and reiterates that equal access to sustainable and affordable energy is a fundamental right and that disconnection from electricity and/or heat supply should therefore be banned; believes, moreover, that energy efficient measures in buildings can improve the housing situation and can help to alleviate energy poverty; stresses, however, that the costs of renovation should not be borne by tenants »
Greens group (Greens/EFA)
Recognising the Green Deal must be socially fair to succeed, the Greens call for energy poverty to be prioritised, and for specific actions to be taken to accelerate efforts to address it.
« Insists that the EU must prioritise the fight against poverty, including energy poverty and social justice; supports the inclusion of an energy poverty reduction target and adopt a harmonised definition of energy poverty »
Socialists & Democrats (S&D)
The S&D calls on the EU to enforce the European Pillar of Social Rights to address energy poverty and calls for specific measures to be put in place to accelerate efforts.
« Is aware that the transition to carbon neutrality will bring substantial changes to production, consumption and working patterns in Europe; calls, therefore, for a comprehensive action plan to implement the principles of the European Pillar of Social Rights at EU level, including (…) an initiative for affordable housing, the tackling of energy poverty (…)
Welcomes the commitment of the Commission to addressing energy poverty by producing guidance for Member States in 2020; calls for targeted actions in close cooperation with Member States and the exchange of best practices with the aim of reducing energy poverty while supporting equal access to financing tools for energy efficiency renovations »
Renew Europe
Renew Europe welcomes the Renovation wave and calls for communities to be provided with the needed tools to fight energy poverty. This is a welcome development from the group, which had not mentioned energy poverty in its 2019 election campaign manifesto.
« Highlights that the energy transition must be socially sustainable and not exacerbate energy poverty in the EU's poorest regions; believes that communities fighting energy poverty must be equipped with the necessary tools to participate in the green transition through education and through stimulating long-term investments »
Conservatives and Reformists (ECR)
The ECR recognises the issue of energy poverty but is pushing for minimal action in setting both climate targets and measures to alleviate it.
« Welcomes the Commission's intention to prepare guidelines to assist the Member States in addressing the issue of energy poverty, a profound issue across the EU, which is particularly prevalent in eastern and southern Member States; draws attention to the fact that there are different causes of energy poverty, which vary across the EU and include energy prices, falling household incomes and energy inefficient homes, and that expert opinions on how to tackle the problem diverge significantly; recalls that according to estimates, between EUR 55 and 110 billion in investment would be needed to solve the problem of energy inefficiency in low-income households alone»
European Peoples Party
The EPP is the only group that does not to mention energy poverty in its position.
---
NB: R2E does not engage with far-right MEPs and parties, who on top of blocking progress on climate and social justice, incite hatred and division in Europe.
Read our own position on the Green Deal here.