6 December, 2021
Stories from the front lines: Supporting families to insulate their home 
Zohra lives in Marseille with her daughter. When she bought her apartment in 2010, she found out it had a low efficiency ranking. In winter, they were often cold despite putting the radiator on maximum — drafty windows made it impossible to heat rooms. They even let dust through, but the idea of renovating the apartment was overwhelming.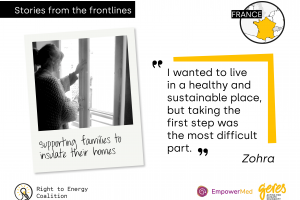 After meeting Geres at an event, Zohra learned about energy audits. Geres offered moral support and came to visit the apartment to explain how she could improve its energy performance. Zohra's vision was an insulated home, using ecological materials, to live in a healthy, affordable and sustainable place. It seemed unattainable, but Geres made her feel less alone and gave her a clear idea about what to expect, giving her access to the necessary information and financial support she needed. Zohra was ready to make the big decision to renovate her home, reduce her energy bills and cut her carbon emissions.
In France, 12 million people live in very inefficient homes, pushing families to either turn off the heating or pay exorbitant bills in winter. The Right to Energy coalition demands massive renovation programmes to slash energy consumption and provide warm homes for all, including specific support for the most vulnerable households.
Geres is an environmental NGO working on three continents to mitigate climate change and its impacts. You can follow them here.